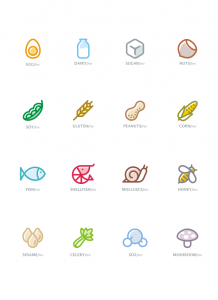 If it seems like there are more food allergies today, there are. Today, about 8% of all children have food allergies, an increase of 50% in ten years. This translates into 1 in 13 children, or about 2 per classroom.  Individualized plans for the safety of each student with an allergy should be made to avoid exposure and reactions.
Students with food allergies may be eligible for special education supports and protections. For instance, a student could be IDEA- eligible as "other health impaired" if the allergies adversely affect learning or the student needs special education/related services due to the allergies. More commonly, students with food allergies may be eligible for a 504 plan if they have a physical impairment that substantially limits one or more major life activities. In the case of allergies, this could include breathing, immune system function, respiratory function, or learning. Districts may not discriminate against a student with a disability or deny them participation in school programs or activities. Schools IEP and 504 teams should discuss how allergies will be handled for students according to their particular allergy and its severity.
Individualized plans for the safety of each student should be developed to avoid exposure and reactions. The chosen accommodations must be implemented during all aspects of the school district's activities and operations.
To determine if a student is eligible under 504 for a food allergy, district must screen out the use of medications or other measures to control the allergy. It is important to note that schools do not have to provide a risk-free environment, only a reasonably safe environment.
It is probably not surprising to you that the issue of accommodation of children with food allergies in schools has been the subject of special education hearings and litigation. Districts sometimes have to contend with diverse perspectives and demands, which they must reconcile on a daily basis. Here is a short summary of some 504 cases that may sound familiar to you.
In one case, a high school denied a student participation in a culinary arts program due to concerns about the student's severe allergies to peanuts, dairy, egg, kiwi and crab. The student did not have a 504 plan at the time, but did have an emergency health plan to address exposure and response to a reaction. The student's allergist had filed a letter stating the student could participate as long as he did not eat any of the foods prepared with ingredients to which he was allergic, and that he wore gloves when handling peanuts. The District attempted to contact the allergist one time, and did not contact him after that prior to making the decision to exclude the student. The student filed a complaint with the Office for Civil Rights, alleging disability discrimination. OCR found that the district had treated the student as a student with a disability even though it had not qualified him as one by excluding him from the program. They went on to find that the district had violated Section 504 procedurally, as it did not make a decision about the student's exclusion with persons knowledgeable about the issues. (Bethlehem (NY) Central Sch. Dist. Office for Civil Rights, Eastern Division, NY, 52 IDELR 169, 109 LRP 30964)
Another case dealt with a student on an IEP whose allergy to peanuts and tree nuts was a life-threatening, airborne allergy. Initially, the District agreed that the student should be educated at a smaller private school that put into place significant protocols and regulations to ensure the student's safety. The District proposed in a new IEP to change his placement to a public school on the basis that the student could be safely accommodated. This student also had autism with communication deficits, such that he would be unable to communicate his physical distress if he were having an allergic reaction. The parents rejected the proposed IEP and filed for due process. In a detailed decision concerning the peanut-free accommodations provided by the private school and the proposed peanut-restricted accommodations of the public school, the hearing officer found that the proposed IEP met the requirements of the law, which require only a reasonably safe environment, and plans in the IEP to ensure the student's safety were adequate to prevent exposure and deal with a reaction if it did occur. (In Re: Student with a Disability Kentucky State Educational Agency 1213-16, 114 LRP 19510)
Finally, there was the Michigan case of a mother who refused to comply with the peanut free school building to accommodate another child who had a life-threatening, airborne peanut allergy. She wrote to the school, stating "I will not be cooperating not participating in the School's 504 plan to another student. My child and I are not subject to, nor bound by, the provisions of the Rehabilitation Act….to meet my child's needs, I will provide my child with the proper nutrition in her school lunch that I, in my sole discretion, deem appropriate."
She filed a lawsuit seeking to enjoin the district from implementing the school-wide ban on nut products and requested money damages. She also alleged that her rights to equal protection and due process under the state and federal constitution were violated, and her child experienced unlawful search and seizure because her lunches were checked and when peanut items were found, replaced with appropriate alternatives.
The court of appeals rejected all her claims, finding that she lacked standing to challenge the 504 plan, that the school district's peanut-free school policy was rationally related to a legitimate government interest, defeating the equal protection and due process claims. As to the unlawful search and seizure, the court stated that the school only looked for and removed banned items based on the parent's notice to the school that they would not comply with the reasonable restrictions. (61 IDELR 231)
Practical takeaways
The most common food allergies are peanut and tree nuts, shellfish, milk, eggs, fish, wheat and soy. Some allergies are very severe, such as students who could have a life-threatening reaction to airborne particles of peanuts.
There are good resources for school professionals on ensuring a reasonably safe environment for students who have these allergies, and developing plans and emergency plans to accommodate the allergy to prevent a reaction, and to deal with a reaction if it occurs. The Centers for Disease Control has some great resources all gathered on one page, at https://www.cdc.gov/healthyschools/foodallergies/index.htm, including Food Allergy Guidelines FAQ and Voluntary Guidelines for Managing Allergies. Both of these resources and many others, including information for school nurses and more, may be found on the CDC page.
Food allergy management is increasingly a common issue. Staff training on preventing exposure, recognizing signs of a reaction, responding with medication or the use of an Epi-pen, including environmental management in terms of cleaning surfaces and other items used in instruction, transportation staff and substitute teacher/aide training are all aspects of food allergy management that require ongoing attention. School staff, including IEP and 504 teams, should discuss food allergies and take appropriate steps to ensure students with allergies are properly accommodated.
Parent, staff and community education is likewise an ongoing effort in the management of food allergies in schools, involving education on watching ingredients in school snacks, lunches and the cafeteria, providing ingredient lists, and more. If you have an IDEA or 504 plan issue involving a food allergy, the EB special education team can assist in ensuring your team's compliance with procedural and substantive requirements.
"Food Allergen Icons" by Milos Radojevic is licensed under CC BY-NC-ND 4.0