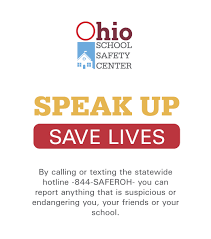 Starting this year, school districts must either register with the Department of Public Safety's free Safer Ohio School Tip Line or enter into an agreement with another anonymous reporting program selected by the district that allows individuals to report threats to student safety.
The selected reporting system must meet all of the following requirements:
Operate twenty-four hours a day, seven days a week
Share any reported information with law enforcement, public safety agencies, and school threat assessment teams as required under your emergency management plan
Comply with FERPA and state law governing student confidentiality
Schools are expected to promote and inform students about the tip line and the reporting methods. Through the tip line, students are encouraged to report:
Bullying incidents
Withdrawn student behaviors
Verbal or written threats observed toward students, faculty, or schools
Weapon/suspicious devices on or near school grounds
Gang related activities
Unusual/suspicious behavior of students or staff
Self-harm or suicidal sentiments
Any other school safety related concerns
Although school safety analysts may ask for additional information, it is important to note that any tips may remain anonymous.
School districts are also required to submit annual reports to the Ohio School Safety Center (OSSC) and the Ohio Department of Education through forms prescribed by each agency. The data reported will include:
The number of reports made through the reporting system disaggregated by school
The number and type of disciplinary actions taken in the previous school year as a result of anonymous complaints
The number and type of mental wellness referrals as a result of anonymous complaints
The race and gender of students subject to the disciplinary actions and wellness referrals
Any other information the ODE or OSSC deems necessary
Districts should ensure that contracts with reporting program providers includes language addressing the reporting requirement to ensure the proper data is collected. This data is considered a security record that is not subject to release under the state's public records law.
The OSSC has created a handful of downloadable print and digital images of the reporting program that may be posted in your schools and on social media. Visit the OSSC's website for additional details and register for the Safer Ohio School Tip Line program here.